Segisaurus
Segisaurus
Pronunciation:

sayg-ee-sore-us

Name meaning:

'Segi [Canyon] lizard'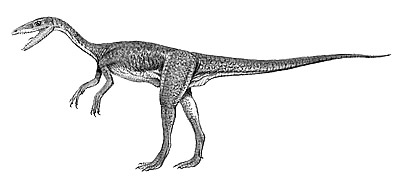 © Anness Publishing / NHMPL
Type of dinosaur:

Length:

1.5m
Diet:

carnivorous

When it lived:

Mid Jurassic, 195-180 million years ago

Found in:
Segisaurus is known only from a partial postcranial skeleton. No full adult has been found, but this was a small carnivorous dinosaur and probably ate insects.
Taxonomic details
Taxonomy:

Dinosauria, Saurischia, Theropoda, Neotheropoda, Coelophysoidea, Coelophysidae

Named by:

Camp (1936)

Type species:

halli
Find out the many ways you can join Dippy the Museum's famous Diplodocus cast on his natural history adventure.