Pelicanimimus
Pelicanimimus
pel-e-kan-i-mim-us

'pelican mimic'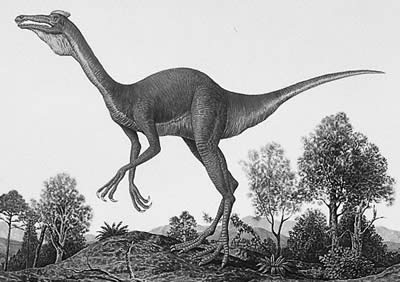 2.0m-long ornithomimosaur
Diet: carnivorous
Pelicanimimus had more than 200 very small fine teeth. The holotype (the defining fossil of this dinosaur) is well preserved, with a visible throat pouch.
Taxonomic details
Taxonomy: Dinosauria, Saurischia, Theropoda, Neotherapoda, Tetanurae, Avetherapoda, Coelurosauria, Tyrannoraptora, Maniraptoriformes, Ornithomimosauria
Named by: Pérez-Moreno, Sanz, Buscalioni, Moratalla, Ortega and Rasskin-Gutman (1994)
Type species: polyodon
Find out the many ways you can join Dippy the Museum's famous Diplodocus cast on his natural history adventure.