Giganotosaurus
Giganotosaurus
Pronunciation:

gig-an-OH-toe-SORE-us

Name meaning:

'giant southern lizard'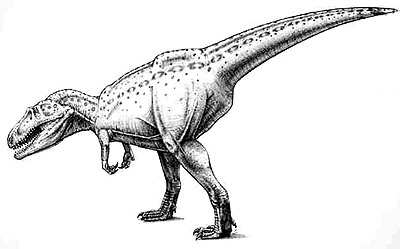 Dinosaur description:

8000kg, 12.5m-long
Diet:

carnivorous

Country:

Period:

Early Cretaceous, 112-90 million years ago

Teeth:

long, blade-like and serrated - ideal for slicing

How it moved:

on 2 legs

Food:

other animals
Giganotosaurus is known from very fragmentary remains.
Taller and longer but slimmer than Tyrannosaurus rex, Giganotosaurus lived millions of years earlier and in South America not North America.
Giganotosaurus had 3 fingers on its hands, not 2 like T.rex. It may have hunted Argentinosaurus.
Taxonomic details
Taxonomy:

Dinosauria, Saurischia, Theropoda, Neotheropoda, Tetanurae, Avetheropoda, Carnosauria, Allosauroidea, Carcharodontosauridae

Named by:

Coria and Salgado (1995)

Type species:

carolinii
Find out the many ways you can join Dippy the Museum's famous Diplodocus cast on his natural history adventure.